Google Glass Review and Developer Journey:
My Google Glass Review and Developer Story From Day 1. Newest Google Glass Developer posts on Top.
November 27th:
Another #GlassRoadTrip, second leg. 3 trips total 3,000+ miles.
This time in the mobile office doing 70MPH with Google Glass.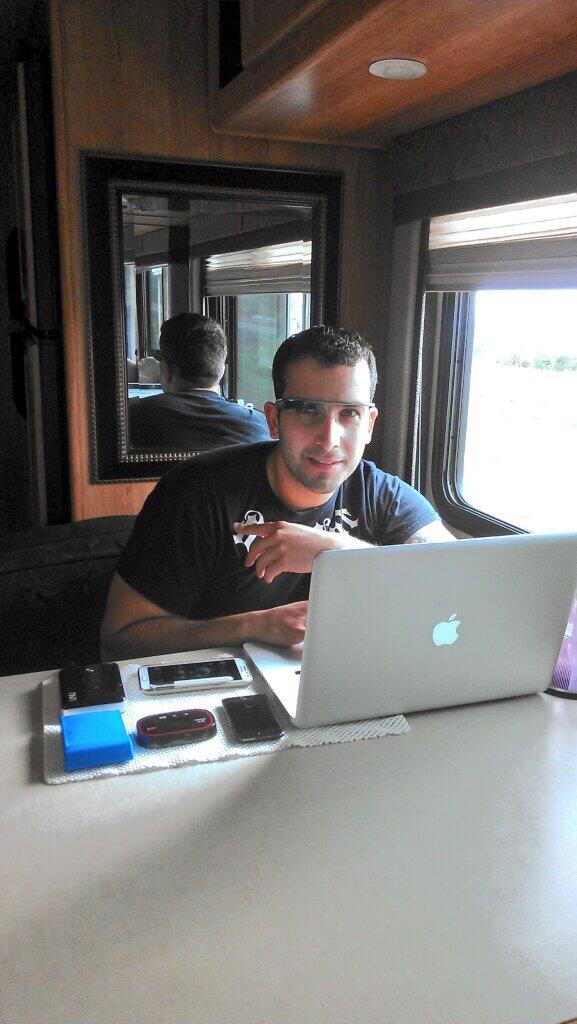 November 26th: 
Google Glass in Space! (well soon)
After catching a NASA launch with Google Glass, I then attempted to see history made by scaling a large motorhome for the SpaceX launch, but after a few attempts Elon Musk and crew scrubbed the launch. I still think it was awesome climbing things with with Google Glass is (wouldn't do that with my Rebel dSLR ) and the fact for the first launch I could use the binoculars while recording handsfree. Unlike dweebs now a days that record concerts and events while blocking their view with devices.

November 16th:
#GlassRoadTrip
Maybe Im just a lawbreaker at heart, or trying to earn my Enterprise Mobility Bad Boy nickname.
But I traveled from NJ (3am) to FL (7:30p) with my Google Glass.
Quite useful. Especially the family tradition of snapping a pic of South of the Border Sombrero.
Nod up
Ok, Glass take a picture
Share with Twitter
Share with Family Circle
::Tweet comes in::
Reply, using voice. Yes Glass auto tags it #ThroughGlass –damn character stealers!
Google Glass Review Road Trip Recap.
Good: directions, keeping eyes on road while staying informed. Bad: Battery (not prescription friendly)
Google Glass Review Summary #1:
-Everyone wants to try it on, snap a pic of them in Google Glass for social sites
-Every keeps hitting record (as its only top button) and you end up catching them on Screencast recording you. Therefore, 50 videos similar
Its coined! The Official Hashtag for me: #GlassRoadTrip
Why? Isnt life just one big road trip! Plus, I was doing a solo 1,000+ mile road trip days later.
November 15th:
First Street Bike Ride with Glass.
It fit with and without helmet shield up. (Impressive)
Little tough to use with motorcycle gloves and full face helmet blocking most of touch pad.
November 14th: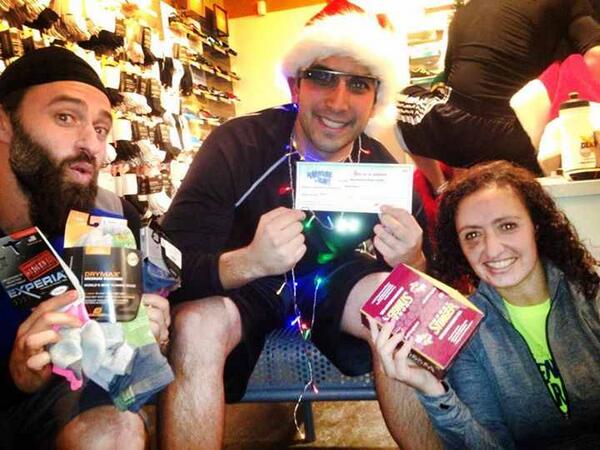 Trying to set more and more #1stWithGlass accomplishments.
I bet Im the first to dress up as Santa (with working lit christmas lights) and do an adventure run!
Great navigation with Google Glass and won the top prize $160 pair of shoes for my evil bug sister. You. Are. Welcome.
Verdict for Google Glass Review: Running is A-OK. Didn't fall off, not too heavy. Will be great when real headphone plug in and I can voice command listening to songs.
November 13th: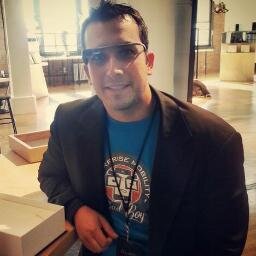 As I skip down the streets of NYC to Chelsea Market I sing "I got the golden ticket! I got the golden ticket" as I realize this is the closet to Charlie and the Chocolate Factory as I will get. After Danielle my Google Glass Angel I mean… Trainer set me up – I got to make my first call to my Mom's for her birthday and snap a few photos on their photo platform.  The bluetooth audio was useable. If you have an invite I would highly recommend going yo Google NYC to Silicon Valley for the training. (Plus, free beer makes the $1633 sting less) Leaving training, it was time to try out the Navi Feature as headed to Nooka's creative lab to meet founder Matthew Waldmen. This was a win for Google Glass. Google Glass Navigation Review:
Not too big not or small. Just right sized for walking busy NYC streets.
If on Driving Directions, Google Glass is smart enough that if you turn your head, it doesnt move the map. But, if you are on walking directions, turn your head it will change the map view. Brilliant!
Turns display off, then right before next turn automatically turns on. Again Brilliant!
Side Note: Living Miami, NYC and Trenton long enough – I was petrified of someone snatching it off my face in heavy pedestrian traffic. It does have MDM from Google, but no insurance.
Inner Circle with Google Glass. After leaving Nooka, I was headed to El Rio to meet my inner tech/startup circle. Navigation on, walking the streets at night I was finally getting looks by passerby-ers since no sunglass shades were in. Tip: How not to look like a Glass-hole and wear Glass Undercover. 1) Wear sunglass shades with Charcoal Color   2)Wear baseball hat As a bunch of  in-the-know techies played with Glass a scene was forming. Our steal the show bartender grabbed it and started doing the normal inappropriate searches as everyone did first time on Siri. For the first time I realized Im just a reverse paid Google Salesman. One of the coolest features of Glass is the app. My Glass > Sceencast which lets you see and control Glass. So this is how you get to see strangers and coach them through features and yet somehow every time I turn my head  users would accidentally Video G+ hangout my scuba instructor in Key West. Sorry Brian!
November 6th:
While 30,000 ft in the air coming back from the Dallas, Texas Mobile Enterprise Executive Summit I get an email to my Google Promotion folder. I almost missed it, Google doesnt consider me getting a Google Glass Developer Golden Ticket a Priority Inbox Item?!  October 30th: Well it begins after an amazing ROOT Android developer named Jared blessed me with a Google Glass Developer Invite via Reddit.